Via
CarExpert
FORD RANGER RAPTOR AND BRONCO TO GET TURBO V6, RAPTOR HEADING TO USA
What we know about the 2021/2022 Ford Ranger Raptor
The next-generation Ford Ranger Raptor will launch in the USA, further bolstering the Ranger line-up for the States
A leaked screen shot confirms Ford will use a second-generation Nano 2.7-litre EcoBoost turbocharged V6 engine for Ranger Raptor in the USA
Ford will launch the next generation of Ranger Raptor in Australia with a 2.0-litre turbocharged diesel and 3.0-litre turbocharged V6 diesel
The Ranger Raptor will pick up the latest generation of Fox Racing shocks with live valve technology
The next Ranger Raptor will move upmarket in terms of price and interior technology
What we know about the 2021 Ford Bronco
Ford will take the wraps off the all-new Ford Bronco at a global reveal on July 13
The Bronco will launch with a 2.3-litre turbocharged four-cylinder EcoBoost petrol engine
The Bronco will come with a 10-speed automatic transmission, plus the option of a seven-speed manual with six forward gears and a crawl gear
A leaked screen shot confirms Ford will introduce the second-generation Nano 2.7-litre EcoBoost engine into the Bronco as an option, or as part of a Bronco Raptor package
How do we know Ford will use this engine? A screen shot sent to
CarExpert
from what appears to be a computer with engine and prototype details. This screen shot is either from a Ford computer or a registration database, and it calls out a 2021 Ranger prototype on the T6 platform.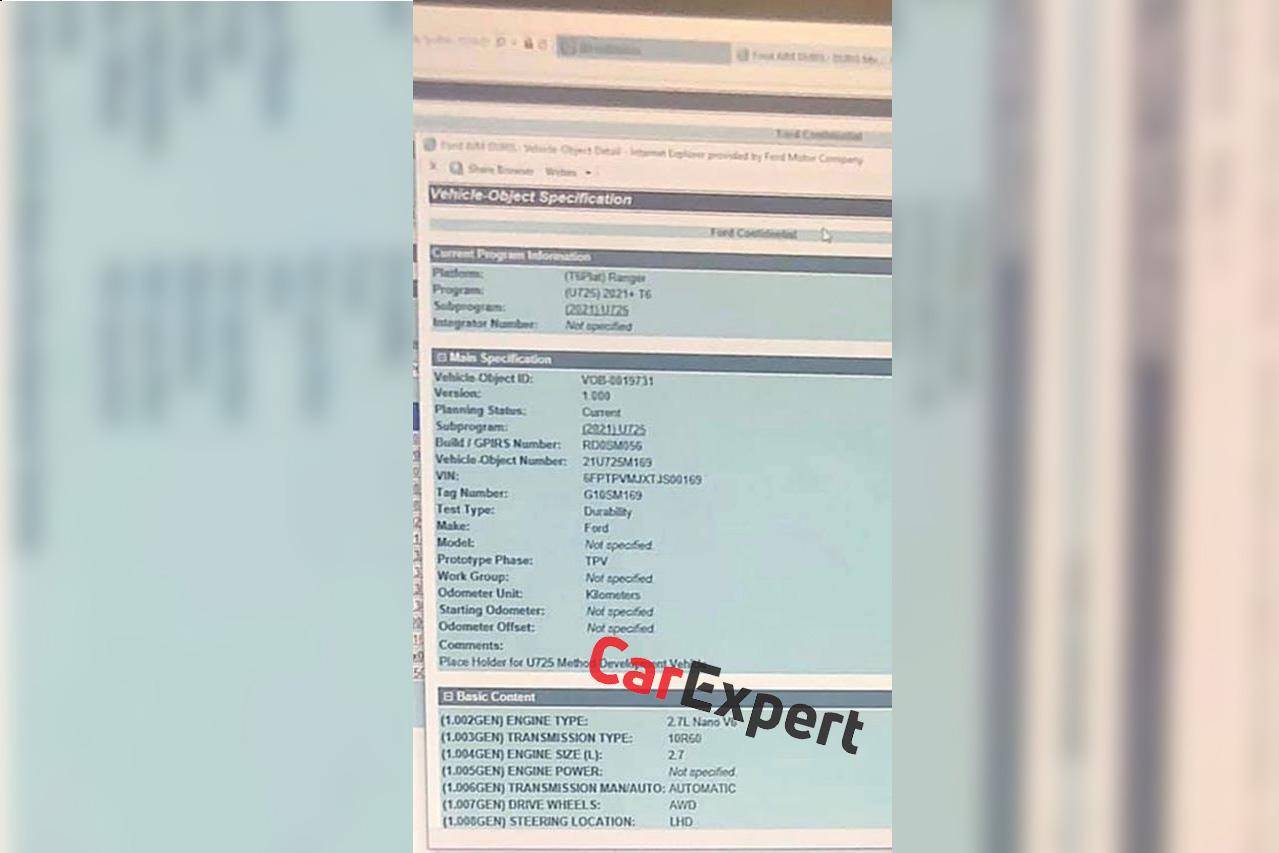 It goes further by stating the vehicle's engine, which in this case is a 2.7-litre turbocharged V6 Nano EcoBoost engine. It also mentions left-hand drive, which indicates it's destined for the US market, and says the vehicle will be all-wheel drive, which suggests it won't be a switchable setup like the 2.0-litre diesel currently in the Raptor.
We also know this engine is currently being tested in Australia thanks to the VIN printed on screen. The VIN matches earlier ones used for Australian-produced vehicles. It could have been left over, and closely resembles VINs used on the Ford Territory.
And how do we know the Ranger Raptor will be heading to the United States? Ford lodged a patent registration for the Ranger Raptor in 2018 when the vehicle was launched. They also lodged an additional registration that makes specific mention of a matching US design registration. Further to that, the images used in the patent registration show the use of a sliding rear window, which is currently fitted to the US market Ranger, but not the Australian-specification Ranger Raptor.
Ford may have intended to launch the Ranger Raptor in North America earlier, but may have been waiting for the EcoBoost Nano V6 to have been engineered for the T6 platform, which may have led to the decision to hold off launching Ranger Raptor in the US until this next-generation vehicle was ready.