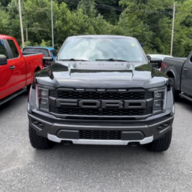 First Name

Gibran
Joined

May 23, 2023
Threads
Messages
Reaction score

75
Location
Vehicle(s)

24' Ranger Raptor, 19' Model Y LR
Ford would be a fool not to allocate 1 to each dealership in the network. Showing favoritism between authorized Ford dealers when it is not sales based allocation, but new release based allocation would be bad business.

Did you know there are just under 3,000 authorized ford dealers in the United States? Between what we know on here and that number alone it doesn't take a detective to put two and two together.

That leaves a couple hundred Raptor units outside of dealer allocations. This would probably cover everything from press release units to be paraded around all the way to little jimmy whos the son of the engineering head wants a new RR and what jimmy wants, jimmy gets.
I'm embarrassed to say that I called over 300 dealerships when the madness started lol. Essentially called most or all (depending on state) dealers across CA, WA, OR, UT, and AZ. Even kept a spreadsheet going to track who still had their allocation, what the adm's were, etc. And to avoid the avg joe sales person telling me incorrect information I asked for GM's if available. There were a TON of dealers that told me they had absolutely no clue wtf I was talking about. I'm talking roughly 40-50% of the folks I called at the time telling me that they had absolutely 0 information about the RR. And there was no in between, either they'd seen all the bulletins we'd shared and discussed here and knew about their sole allocation, OR they didn't hear jack sh*t.
I agree with you, it's a terrible model to play favorites, but I have to believe that's what's going on (or something like it). I wouldn't be surprised if it was more like 1.5k or 2k dealer allocations, and the rest for press and friends/family/employees