via Australian site CarExpert:
https://www.carexpert.com.au/news/2...rest-to-go-hybrid-everything-you-need-to-know
2022 FORD RANGER AND EVEREST TO GO HYBRID: EVERYTHING YOU NEED TO KNOW
Ford is going hybrid in its quest to take down the all-conquering Toyota HiLux.
Confidential plans about the 2022 Ford Ranger and Everest have leaked ahead of a drip-feed of information about the new models, which kicks off later this year.
The plans, exclusively obtained by
CarExpert
, detail the range of drivetrains and offer a breakdown of next-generation Ranger and Everest models to be offered by Ford, including plug-in hybrid variants of both the dual-cab ute and off-road SUV.
What we know about the 2022 Ford Ranger and Ford Everest
Three engines will be offered: two diesels and a petrol plug-in hybrid (more below)
The 3.2-litre five-cylinder diesel engine will be discontinued
The Everest will be available in six trim levels, including an off-road focused Wildtrak X variant
Everest pricing will stretch from around $50,000 before on-road costs to $76,000 before on-road costs
The Ranger Raptor will gain a V6 turbo-diesel engine to replace its twin-turbocharged 2.0-litre diesel
Our computer generated images are based off a final clay model of the Ranger and Everest
Interior on high-spec models will get a 12.8-inch portrait infotainment screen and wireless Apple CarPlay and Android Auto
The addition of plug-in hybrid variants to both Ranger and Everest ranges comes on the back of Ford allocating US$11 billion of investment into electric vehicles, with plans to roll out six fully-electric products (including the F-150 truck) starting with the Mach-E.
The information below is a mix of what we already know, along with information from our confidential sources and logical speculation.
The 2022 Ford Ranger and Ford Everest engine range
Ford will kick the 2022 Ford Ranger and Ford Everest off by deleting the ability to purchase either model with its ageing 3.2-litre five-cylinder turbo-diesel engine.
The default engine will be a 2.0-litre twin-turbocharged four-cylinder diesel producing 157kW of power and 500Nm of torque.
Buyers will be able to step up to a six-cylinder turbo-diesel engine as an option on the top model grades. That engine will be a 3.0-litre turbocharged six-cylinder diesel making 186kW of power and 600Nm of torque.
The six-cylinder diesel engine is currently used in the American F-150. The V6 diesel engine was released in June 2018, and helps the F-150 offer a towing capacity of over 5000kg with a braked trailer.
Currently, the only two V6-powered diesel utes on the market are the Volkswagen Amarok V6 and (for now) the Mercedes-Benz X-Class X350d.
They both use 3.0-litre turbocharged V6 diesel engines. The Amarok pumps out 190kW of power (200kW on over boost) and 580Nm of torque, while the X350d produces 190kW of power and 550Nm of torque.
The Volkswagen and Mercedes-Benz utes are capable of 0-100km/h runs of 7.3 and 7.5 seconds respectively.
The final engine being offered for both Ranger and Everest, although unlikely to be available immediately at launch, is a 2.3-litre turbocharged four-cylinder petrol engine with a plug-in hybrid system.
The Ranger and Everest
PHEV
will produce
270kW
of power and
680Nm
of torque, and is expected to offer a combined fuel economy of 3.0 litres of fuel per 100km.
Our understanding is the plug-in hybrid engine is yet to be used in any Ford products globally. Currently, the Explorer PHEV uses a 3.0-litre turbocharged V6 and an electric motor, while the Escape PHEV uses a smaller 2.5-litre four-cylinder in combination with an electric motor.
The entire range will be mated to Ford's 10-speed automatic transmission.
What's coming for the Ranger?
While we have a high level of detail for the Everest, we could only get an indication of the engines set to be offered in the Ranger – although specifications and features are expected to carry across from Everest.
That will mean the availability of the 2.0-litre twin-turbocharged four-cylinder diesel, a 3.0-litre turbocharged V6 diesel for high-grade models, and the ability for customers to option a plug-in hybrid engine across the range.
Ford will rely on the plug-in hybrid engine to lure fleets and commercial buyers trying to reduce or neutralise emissions in their carparc.
Ford's strategy is slightly different to Toyota's for dual-cab utes, with the Japanese brand heading down the path of a series hybrid that charges its batteries with the vehicle's momentum as opposed to using a power cord like the upcoming Ranger and Everest.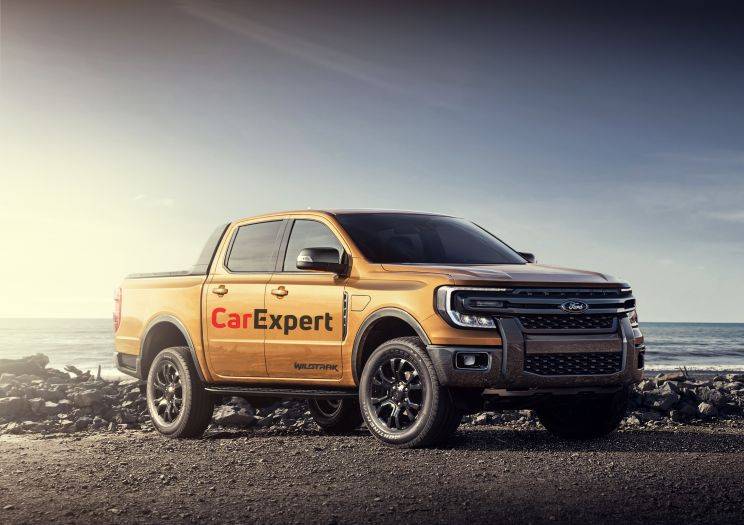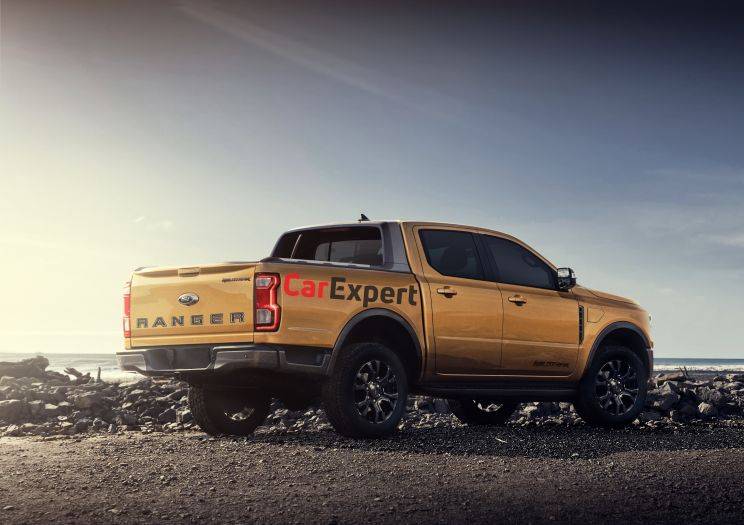 It's worth noting that plug-in hybrid vehicles can also charge using their momentum, but use a much bigger battery.
The Ranger Raptor will pick up the 3.0-litre turbocharged V6 diesel engine for a little bit of extra kick. It is also likely to get the next generation of Fox Racing shock absorbers recently introduced to the 2020 Ford F-150 Raptor.
The Fox Racing Shox Live Valve suspension includes a 'jump mode', which utilises an internal ride-height sensor that can variably adjust suspension damping depending on the road conditions. The adaptive suspension offers a more rigid ride that offers further flexibility when driving over rocks or doing jumps.
What about technology for the 2022 Ford Ranger and Ford Everest?
In addition to investing in electric vehicles, Ford is spending big on infotainment and connected car technology. Both the Ranger and Everest are expected to be offered with the brand's SYNC4 infotainment system, which is delivered to a new 12.8-inch vertical infotainment screen in the centre of the cabin.
It'll be joined by a 10.25-inch screen ahead of the driver showing speed and trip computer information.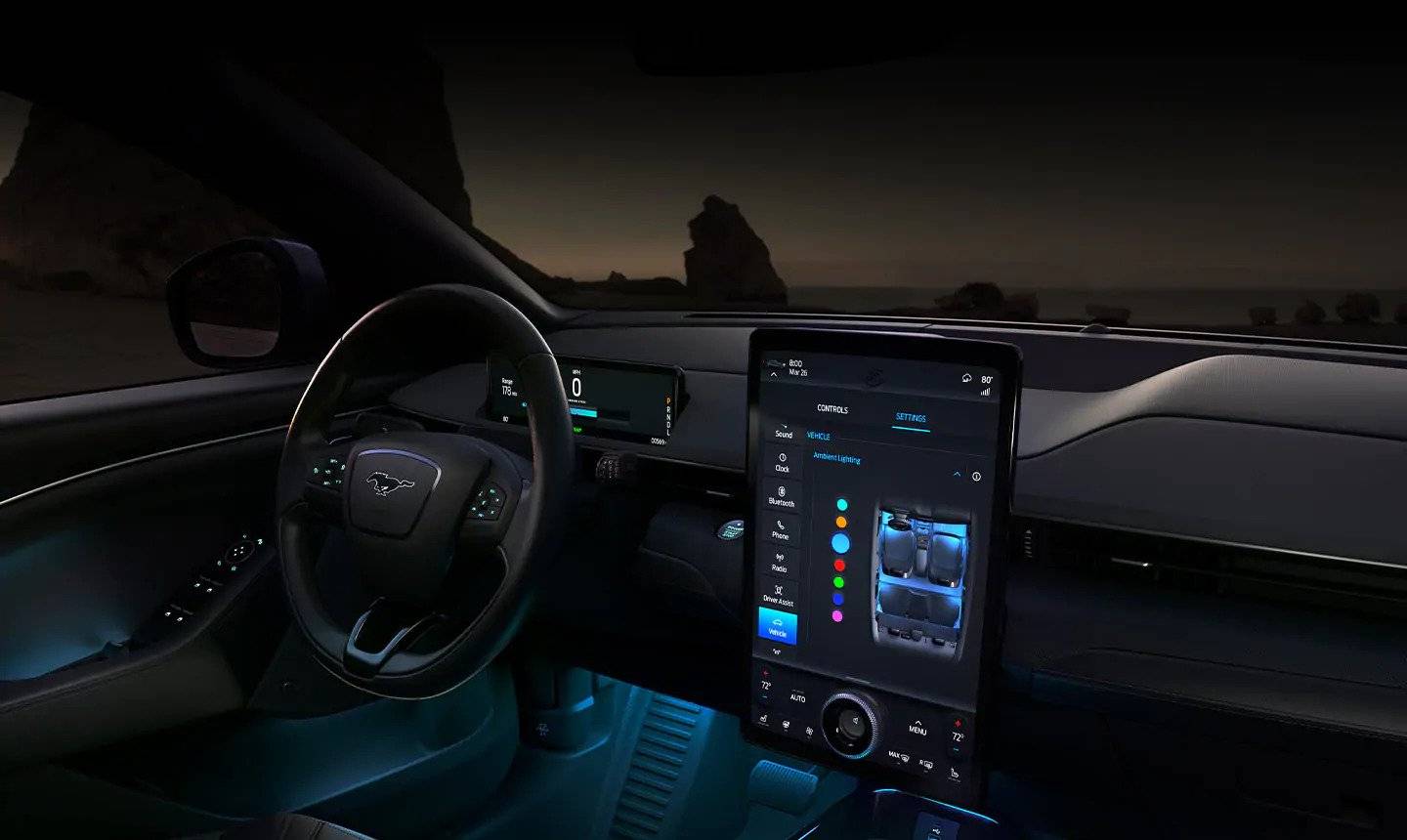 A similar infotainment system has been developed for the upcoming Ford Mustang Mach E electric vehicle. It features wireless Apple CarPlay and Android Auto, along with remote connectivity – which will shortly be rolled out on Ranger and Everest through their older infotainment systems.
When can we expect the 2022 Ford Ranger and Ford Everest in Australia?
While Ford is marketing this car as a 2022 model, it's likely to be released globally towards the end of 2022 with an Australian release likely for late in 2022 or early in 2023.
Ford announced in January 2019 it would be combining forces with Volkswagen to amortise research and development costs on utes and vans globally. The announcement also confirmed that Ford would lead the charge on development of the ute (pickup truck) product.
"Through the alliance, Ford will engineer and build medium-sized pickups for both companies which are expected to go to market as early as 2022. For both parties, Ford intends to engineer and build larger commercial vans for European customers, and Volkswagen intends to develop and build a city van," said the press release by Ford in 2019.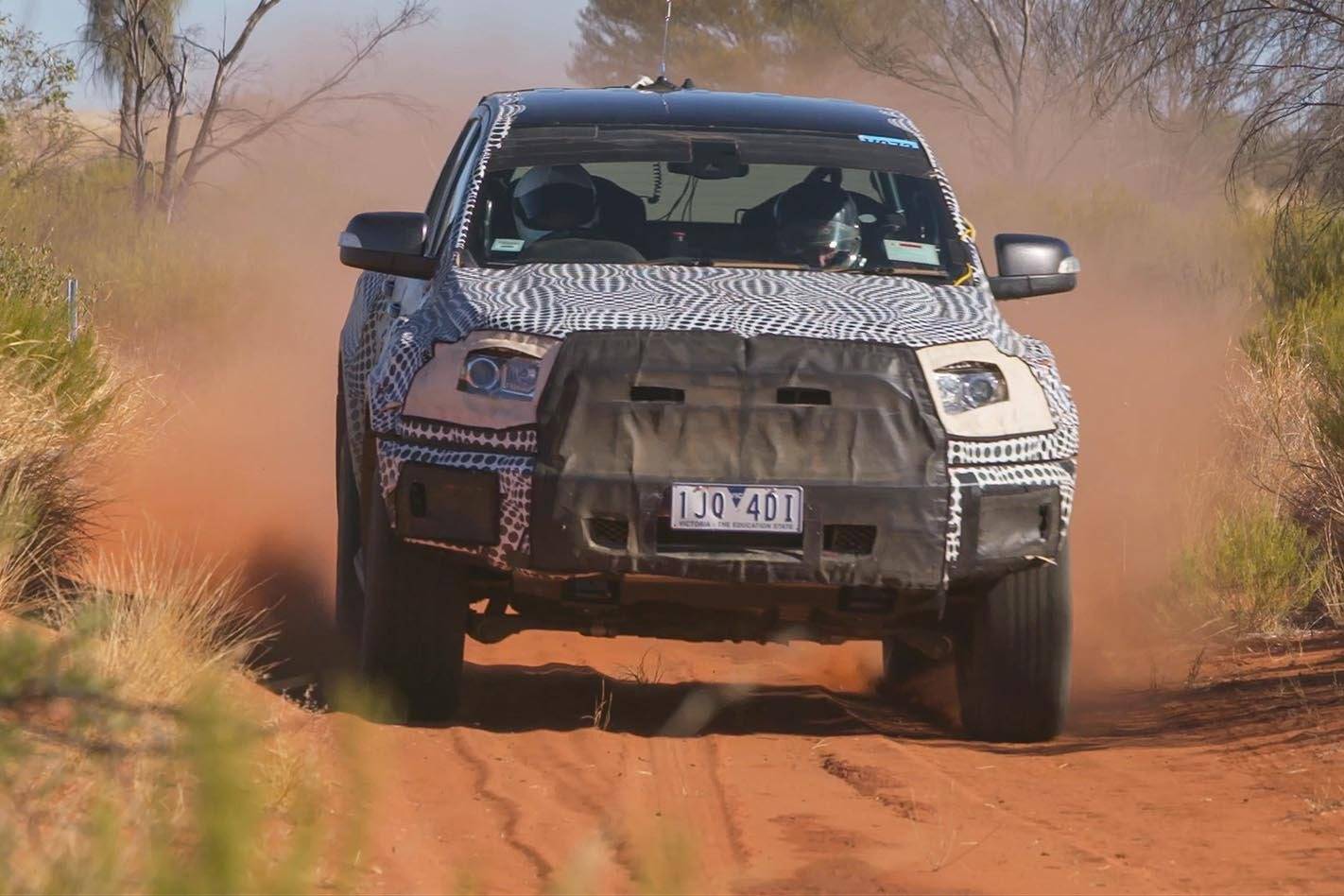 Since then, it has been confirmed the next-generation Ranger (and subsequently the Volkswagen Amarok ute and ute-based Ford Everest), will be based on a modified version of the T6 platform from the current model, with development shared between the Australian engineers behind it and their American counterparts.
The Volkswagen version of the Ranger is expected to be launched shortly after the Ford, with an Australian arrival likely in early 2023.
It's unclear whether the Amarok will get the plug-in hybrid system developed for Ranger and Everest at launch – both models are likely to pick this up shortly after launch.
What does Ford Australia have to say?
We put a series of questions about the information here to Ford Australia. Here are its responses.
CarExpert: How likely is Ford to offer a hybrid in the Ranger and/or Everest within the next 5 years?
Ford Australia: We have no specific plans to share on the next generation Ranger or Everest at this time. The biggest driver of technology and innovation in our line-up is customer feedback and demand, and we work tirelessly to ensure we bring products that reflect Australian tastes, needs and expectations.
CE: How much engineering and/or design work is being done on the next generation of Ranger and Everest in Australia?
FA: The Ranger and Everest models' design and engineering is Australian-led and includes work carried out at our centres at Campbellfield, which hosts design and engineering teams, as well as our Geelong engineering capability only a short distance from Ford's You Yangs Proving Ground.
These assets enable our expert teams from around the globe to input into Ranger, which is sold in over 180 markets worldwide, with the capability to conduct rigorous testing and analysis for the highest quality and standards for our customers.
CE: Will the next generation of Ranger launch ahead of the Amarok equivalent?
FA: We cannot comment on VW products or timings.
CE: Will Thailand remain the manufacturing facility for Ranger and Everest, and will Amarok follow suit?
FA: We cannot comment on VW products or timings. Ranger for Australia is produced in our Thailand plants, however Ranger is also produced in various locations around the globe, including South Africa and North America.