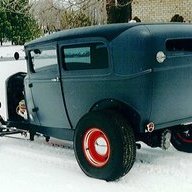 First Name

John
Joined

Sep 14, 2019
Messages
Reaction score

229
Location
Vehicle(s)

2019 Ranger SuperCab XL - STX - FX4 - Magnetic
Vehicle Showcase
Those are exceptions. Very rare. Again, breathers are band aids for bad rings.
Breathers are not band aids for bad rings. Every internal combustion engine with rings has blow by, nothing rare about that at all. Breathers are merely another way of dealing with positive crankcase pressures and in our case, to keep all that gunk out of the intake.
Venting the crankcase to the atmosphere, via a breather, means fumes in the engine bay. Sure, old school racer folks do it and it works, but there is no getting around the vapors, they are there.
The only question here is how much under the hood vapor is acceptable to the user.
The breathers with the filter caps are better than the dump tubes used in the 1950's and 1960's. Those just dumped the oil onto the highway... but the end result is the same..... and that's why PVC systems were invented.. to deal with those fumes.